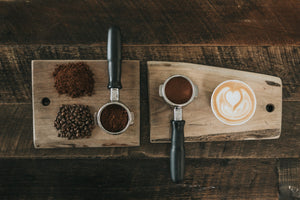 100% ARABICA | SPECIALTY COFFEE | HAND ROASTED
EPIC COFFEE BEANS
Choose from our range of hand-roasted single-origin coffee beans from Columbia, Brazil, Kenya, and Sumatra, or check out our Voyage Roast (Decaf) for the very best cup of decaf with zero caffeine or chemicals, just that same top-notch coffee taste. Freshly roasted whole or ground coffee beans delivered directly to your door.
Whether you enjoy your coffee smooth and decadent, bold and classic, or you're after a crisp brew with bright acidity that's sure to wake you up, we have an Epic Coffee Roast that's right for you.
Want something different? Our Expedition Roast is our pick of the season, always changing - always epic!
We offer our 250g bags with the option of whole coffee beans or ground coffee beans in a variety of grinds to suit your brewing needs including espresso grind, plunger grind, and filter grind.
At Epic Coffee we handpick only the finest coffee beans from suppliers around the world. All of our coffee beans are carefully roasted in micro-batches in-house at our roastery in Waipu in a quality controlled environment and taste tested by our team. We would like to think we offer some of the best coffee beans in NZ.
We roast your coffee beans in NZ specifically to your order and deliver it as quickly as we can to ensure you are getting the freshest coffee possible.