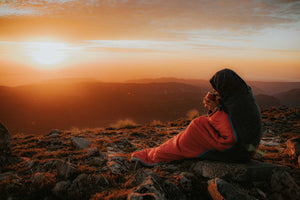 OUR MISSION.
To bring like-minded adventurers together for epic journey's fuelled by top-notch coffee.

All while supporting the things we care about and restoring nature.
OUR STORY.
We're a father and daughter duo who believe that your epic adventures deserve to be fuelled by top-notch coffee. Epic Coffee was an idea born from our shared love of the outdoors, adventures and of course, damn good coffee. As avid adventurers and extreme sports enthusiasts ourselves, we wanted to create an adventure-proof on-the-go coffee option that tasted just as good as a visit to the local roasters.

More than a simple cup of coffee we envisioned a product that would inspire others to embark on their own journeys, see the beauty in nature through our eyes and become part of a community that helps preserve the outdoors. We wanted the Epic Coffee brewing process to become a way to soak in the moment around you while fuelling the next quest.

Whether you're heading on your first camping trip, or embarking on an extended passage, we would love to share our passion of coffee with you and fuel the road ahead.
OUR COFFEE.
We source only the finest coffee beans from around the world, carefully roast in micro-batches right here in Waipu, New Zealand and fill our Epic Drip Filter's for you to enjoy damn good coffee on the go.
OUR PACKAGING.
Our external packaging is eco-conscious, we use R3 packs, raw cardboard boxes, paper tape to send out your epic orders.
There is a fine balance when choosing packaging materials, between reducing the environmental effects and preserving the quality of coffee taste. We continually strive to educate ourselves with the latest research to find the best compromise between quality of coffee taste retention and environmental impact.
For now, our internal packaging is not eco-conscious, but we do everything in our power to educate our epic customers on conscious disposal.
Proudly doing our part, for the things we love.
SURF LIFE SAVING NZ
Fueling the folks saving you our in the water, we are proud sponsors of Piha & Waipu Cove Surf Life Saving Club's, who are part of Surf Lifesaving NZ, the leading beach and coastal safety, drowning prevention and rescue authority in Aotearoa.
Catch us at some of the club's events over the seasons.
SEARCH & RESCUE
We have recently teamed up with New Zealand Land Search and Rescue Inc. A national volunteer organisation providing Land Search and Rescue services to the Police and Public of New Zealand. LandSAR Oxford is based in North Canterbury. They cover the local communities, as well as the foothills, mountains and wilderness areas from the Pacific Coast through to the Main Divide. Offering skills and expertise in finding and recovering those who are lost, missing, injured, despondent or just in need of assistance 24/7.
RESTORING THE FORESTS
Proceeds from every product sold are donated to ONETREEPLANTED. In New Zealand they are hard at work restoring the country's beautiful native forests. By planting trees in New Zealand they are helping restore indigenous tree species to previously logged or degraded lands, enhance habitat for native biodiversity and protect local watersheds vital for the water quality of local communities and towns.
HAVE YOUR SAY!
We are always open to improvement suggestions or feedback that will allow us to maintain the same quality of coffee while reducing our environmental impact, if you have any, hit us up!